Name: Mudau Salfinah
Age: 52
Tenure: 2006
Salfinah Mudau is 52 years woman, farming in Limpopo at Nwanedi Hettie farm. Growing up in a farming family, she cannot read or write but she followed his parent's footsteps to become business woman. In the year 2006, She started her own farming operations trading under the business name of Zwivuya farming services. Salfinah joined Timbali technology incubator in 2013 and is currently farming under the Timbali Cluster 3, producing vegetables such as Tomatoes and butternut as his main commodities. She is currently operating her farming business on a 10 hectors of production area. Recently she planted 0.5ha of green beans and for CMP
The challenges which he experienced:
Lack of business skills such as financial management, business planning administration and marketing
Did not have business plan review
unskilled staff for that business type
Poor clientele
Lack of knowledge of the market they are operating in
Poor / no marketing for the business.
Access to export opportunities and markets
Inadequate equipment (office or operational)
Linkage/ Mentorship
The Business Advisor did counselling with the farmer about Business development processes, record keeping, quantification, data driven decisions such as soil analysis.
With Timbali intervation the business's turnover increased by 70%
The harvesting specs were showed to Salfinah to line the beans while harvesting and she followed the recommendations. Most of her beans delivered to retail market due to good quality.
Role model to Nwanedi youth.
Timbali assisted him with business developments system to add value on his business. Timbali also implemented the franchise business systems on his business. Regina has been awarded the best achievement award in 2013 for the most entrepreneur award in export for selling her produce to the locally countries such as Zimbabwe and Mozambique
Salfinah employed 12 employees on permanent basis and 5 of them are South African. He also employed 20 temporally employees with high number of women (20) and youth (15).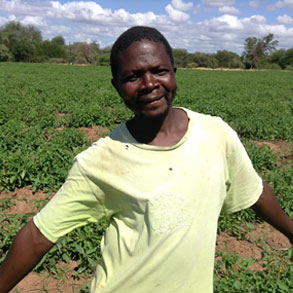 Nevhulamba Azwitamisi Caswell is a 35 year young farmer who started farming 2014. He started his company Evah General trading 2014.